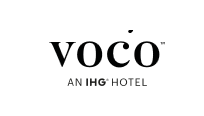 IHG, InterContinental Hotels Group, has just launched a new upscale hotel brand - voco.
Voco will focus primarily on hotel conversion opportunities.
The roll-out of voco will begin in IHG's Europe, Middle East, Asia & Africa (EMEAA) region, with plans to take it to the Americas and Greater China over time.
The new brand is expected to drive significant incremental growth for IHG, with the group hoping to open more than 200 voco hotels in attractive urban and leisure locations over the next 10 years.
In Britain the first hotels to be rebranded could be some of the twelve former Principal Hotels for which IHG has recently agreed a long-term managed lease. This could include the keenly awaited Grand Hotel currently under refurbishment in the centre of Birmingham.
The first signing for the voco brand outside of Europe will be the Watermark Hotel & Spa Gold Coast, Surfers Paradise, Australia.
The word voco is inspired by the meaning 'to invite' or to 'come together' in Latin. By using the voco as a brand name, IHG are aiming to 'combine the informality and charm of an individual hotel, with the quality and reassurance of a global and respected brand'.
The voco brand will offer a bold, distinctive identity and informal service style. IHG have identified three critical issues where they feel voco can create a compelling guest experience that will differentiate the brand. These are:
Come on in – a signature welcome experience, swift and simple check-in with an unexpected, locally-influenced treat to kick-off a guest's stay.
Me time – encouraging guests to take a moment for themselves with extra cosy beds and bedding, quality bathroom amenities, rejuvenating aerated showers, a variety of viewing content on Smart TVs and excellent connectivity in every room.
voco life – vibrant and sociable bar and lounge spaces that work for different moments of the day, so that guests always have space to relax and enjoy themselves – from offering a great coffee to start the day or shareable and classic dishes in the evening that provide something to talk about afterwards.
More details about voco: https://www.vocohotels.com/