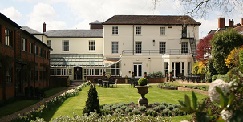 Three hotels have joined the new Best Western Premier Collection just three months after the brand was launched in the UK. The three hotels are: 81-bedroom Winchester Royal Hotel (pictured left), the 152-bedroom Richmond Hotel in Liverpool and the 67-bedroom Bank House Hotel, Golf and Spa in Worcester.
BW Premier Collection brand was launched in March 2015, together with a second brand – 'Vib' - which is aimed at the modern, urban traveller.
The three BW Premier Collection hotels will not be members of Best Western, but they will be associate hotels. They will retain their identity and won't take on the Best Western branding. The only evidence that the hotel belongs to the brand will be a small plaque on the outside of the property.
Details: www.bestwesterndevelopers.com