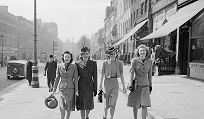 From 'onesies' to wear in the air raid shelter to jewellery created from aeroplane parts the new 'Fashion on the Ration' exhibition at the Imperial War Museum in London looks at how fashion survived and even flourished under the strict rules of rationing in 1940s Britain often in new and unexpected ways.
The exhibition explores how men and women found new ways to dress as the rationing of clothes took hold. Displays of original clothes from the era, from military uniforms to functional fashion, reveal what life was really like on the home front in wartime Britain. It is a story about creativity, innovation and coping in adversity, the impact of which can still be seen upon British style today.
Viewings and meetings can be combined at the Imperial War Museum; a Grade-II listed building in central London with a range of meeting and event spaces. These include the Atrium accommodating up to 340 guests for a reception, the Cinema to seat 200 people and the Roof Terrace seating 180 for a dinner plus a range of smaller boardrooms and breakout rooms.
Fashion on the Ration runs until the end of August 2015.
The Imperial War Museum is located in central London within walking distance of the South Bank - ten minutes from Lambeth North tube station and fifteen minutes from Waterloo.
Details: www.iwm.org.uk