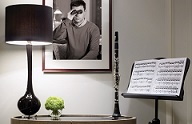 Corinthia Hotel London's fourth annual Artist in Residence programme is opera. Also announced is the prestigious panel of judges who will choose a winning idea from a range of artist applications. The selected artist will then be awarded a month residency at the hotel, over which time they will develop and realise their vision.
The finished project will launch in September 2015. A selection of artists have been approached to submit ideas for the project, with one final 'wild card' position still remaining. Corinthia Hotel London's General Manager Renaud Grégoire will select a final applicant from open submissions to join the other artists.
The Corinthia Hotel London Artist in Residence is an annual initiative championing British talent within different disciplines of the arts. Over the past four years Corinthia Hotel London has commissioned site specific pieces across theatre, film and visual art. Previous residencies saw winning commissions from aspiring filmmakers Zawe Ashton (best known for acting as Vod in Channel 4's Fresh Meat), and David Petch (2014), immersive theatre company Look Left Look Right (2013) and photographic artist Noémie Goudal (2012).
Details: http://corinthia-air.com/