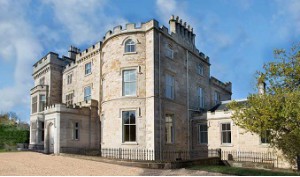 Crossbasket Castle hotel in Blantyre, South Lanarkshire has just reopened following an extensive refurbishment.
Crossbasket Castle's features include a grand ballroom overlooking the waterfalls on the River Calder, plus nine individually-styled bedrooms, a drawing room, dining room and library all furnished with 14th, 15th and 16th century pieces from across Scotland.
Each bedroom is decorated in a period style with an over-sized bed alongside original antique furniture - and fully equipped with the latest audio and video technology.
Crossbasket Castle has six meeting rooms ranging from the Roosevelt Grand Hall, a mediaeval style ballroom accommodating up to 350 guests to the Lindsay Tower in the oldest part the Castle accommodating up to 12 delegates seated.
The Albert & Michel Roux Jnr Restaurant in Crossbasket Castle is overseen by the French chef Albert Roux, son Michel Roux Junior and run by an award-winning executive head chef.
Crossbasket Castle is managed by Inverlochy Castle Management International (ICMI); a company which operates 12 other independent hotels throughout Scotland.
Crossbasket Castle is located in High Blantyre close to East Kilbride and the M80/ M74 motorways. It is an approximate 30 minute drive from Glasgow.
Details: http://www.crossbasketcastle.com/