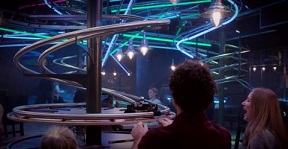 Alton Towers Resort opens the UK's first Rollercoaster Restaurant in May 2016. Rollercoaster Restaurant is a new dining concept which will be available for exclusive corporate hire. It promises to bring a new meaning to the term 'fast food'.
The rollercoaster is 400 metres of spiralling steel track i.e. the length of an athletics running track constructed above the dining table. Plated food at the top will accelerate to speeds as fast as a Mo Farah sprint, spin two loop-the-loops and drop 26 foot before reaching the diner.
Alton Towers Resort has calculated that each plate will cover an average of 173 miles each week, the same distance between London and Sheffield.
Alton Towers Resort are promoting Rollercoaster Restaurant as an ice-breaker at a teambuilding dinner or adding something extra to a corporate away-day. The restaurant will be available to hire exclusively for up to 150 dining delegates from 13th June 2016. The restaurant will certainly put a twist on any corporate event.
Details: www2.altontowers.com