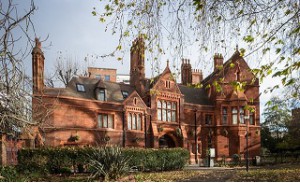 Take a look at the picture alongside. It's a hotel but where do you think it is? It looks like a converted old rural mansion house somewhere in the countryside or perhaps on the outskirts of a small country village.
But no - this is St Paul's Hotel on the main Hammersmith Road in west London. 153 Hammersmith Road to be precise. It is within a two minute walk of Hammersmith tube and bus station.
I came across the hotel by accident whilst walking up from an exhibition at London Olympia to Hammersmith tube station. It is not the first time I have done that walk but I have never been aware of St Paul's Hotel before.
I was curious and I went inside to check it out. Unfortunately it was late in the afternoon, the hotel was busy and I had a train to catch so I didn't see any bedrooms.
However, if like me, you judge a hotel from the welcome you receive as soon as you walk in then St Paul's Hotel is a very good hotel indeed.
The building itself was originally St. Pauls School and was designed in 1884 by Alfred Waterhouse, the architect of the Natural History Museum. Each room is individual and encompasses the original character of building.
The bedrooms appear to be elegantly decorated, comfortable and welcoming. The bedrooms range from classic single rooms to junior deluxe doubles.
All 35 bedrooms are air-conditioned, equipped with the usual hotel bedroom bits and pieces and wi-fi is complimentary throughout.
If you are lucky you can get a single room for less than £100.00 but around £150.00 per night appears to be the more regular starting rate.
The Melody Restaurant at St Paul's Hotel takes its name from the 1971 British film of the same name. A number of scenes were filmed in what was then St Paul's School. Guests can expect a 'fusion of modern European cuisine with seasonal ingredients from sustainable sources'. The hotel's Sunday roast merits a special mention on their website.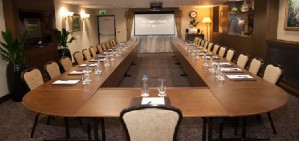 St Paul's Hotel has three meeting rooms. The main Waterhouse Suite will seat between 40 and 60 delegates depending on layout. The Churchill Room and the Colet Room are both boardroom/ syndicate rooms each seating up to ten delegates.
As you can see the St Paul's Hotel is 'well balanced' bedrooms to meeting capacity.
Considering St Paul's Hotel is on one of the main arterial routes into and out of central London and also has three bus stops at its front door, it is remarkably quiet and peaceful inside.
I didn't have time for a full show round of the hotel hence much of the information above has come from their website. Next time I am down that way I will make a point of checking the full facilities at St Paul's Hotel.
Details: http://www.stpaulhotel.co.uk/