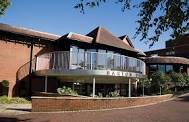 Barton Grange Hotel in Preston has just completed the latest stage of its refurbishment programme with a £340,000 revamp of 21 bedrooms. Corridor upgrades at Barton Grange Hotel should be complete by September.
Refurbishment of the bedrooms includes décor upgrades, new mattresses, individual Sky TV boxes and free hi-speed fibre wi-fi. The executive and superior rooms also include a Nespresso coffee machine.
Upgrading the final tranche of bedrooms, the Garden Rooms, and a refurbishment of the lounge are penciled-in for next year.
Barton Grange Hotel is a converted old manor house with 51 bedrooms, the Walled Garden Bistro Restaurant and leisure facilities including an indoor pool, gym and sauna.
The Barton Suite is the principal meeting space at Barton Grange Hotel accommodating up to 300 delegates and supported by the Lemon Grove, Lime Grove, Olive Grove and Orange Grove Suites which comprise the Grove Suite with each room accommodating between two and 14 delegates.
Barton Grange Hotel is a five minute drive from the M6 at junction 32, its junction with the M55 motorway to Blackpool.
Details: https://bartongrangehotel.com/