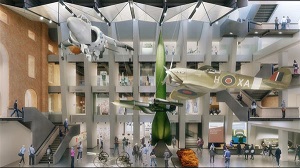 Imperial War Museum in London (IWM London) reopens on Saturday 19 July with the launch of their new atrium and their First World War Galleries. The new atrium features objects including a Harrier jet, Spitfire plane and V2 rocket and reveals how people's lives have been affected by war and conflict from the Second World War to the present day. The atrium will be available for seated dinners and receptions. A new suspended gallery in the rooftop offers an unusual space for a variety of events including breakfasts, receptions, presentations and dinners.
The IWM London's Georgian boardrooms and conference rooms have been available throughout the building's redevelopment. The boardrooms will accommodate up to 24 delegates for a boardroom meeting or a seated lunch for up to 50 guests. The Conference Room will accommodate up to 100 delegates.
IWM London is a Grade II-listed building within walking distance of London's South Bank, as well as being close to both Westminster and the City.
Details: www.iwm.org.uk