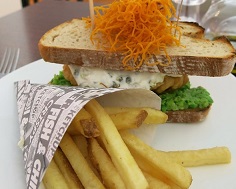 The Studio Kitchen at K West Hotel and Spa in Shepherd's Bush, west London is celebrating National Sandwich Week. It runs from 10th to 16th May just in case the event had slipped your mind.
K West Hotel has created a 'seaside sandwich' reports Good Housekeeping Magazine. The sandwich is a very special fish, chips and mushy peas sandwich - but it is not quite what you might imagine it to be. This is not a traditional, greasy fish and chip supper smothered in tomato sauce and wrapped in a bread roll.
The K West seaside sandwich is a crusty white ciabatta filled with a fillet of beer-battered Pollock, served alongside a portion of 'proper' mushy peas and garnish of sweet potato crisps. However as a nod to tradition the sandwich does come wrapped in a newspaper - or at least a newspaper cone for the chips.
Details: www.goodhousekeeping.co.uk