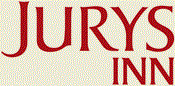 A study by Jurys Inn Hotel Group has revealed that business travellers only get 36 minutes' free time to explore a city they are visiting for work, yet over 90% say they wished they knew more about the cities. To help bridge this gap Jurys Inn has used its staff's local knowledge to create a '36-Minute City Guides' focussing on the cities where Jurys have a hotel.
Suzanne Cannon, Jurys Inn Group Marketing Manager said "It's a shame that business travellers get such a limited amount of time to really experience the cities they are visiting for work. At Jurys Inn, our staff are always on hand to offer advice about great hotspots and hidden gems to visit, even if guests only have a few minutes to spare. With our hotels being ideally placed right in the heart of cities, we hope our 36 Minutes City guides will let business travellers make the most of their next stay at one of our city centre hotels."
Birmingham is the first city to get the 36 minute treatment – with other cities following shortly. The Birmingham guide highlights Brindleyplace and the canal district plus the views of the city from Birmingham's new central library.
Jurys have 31 hotels in city centres throughout the UK and Ireland including one in Prague in the Czech Republic.
Details: www.jurysinns.com