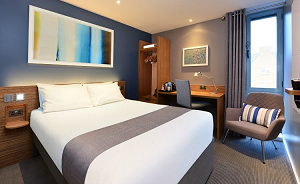 The list of items left in Travelodge bedrooms, which the group published periodically, always makes fascinating reading.
Travelodge has now revealed the most bizarre requests that some of its customers have made whilst staying in their hotels during the last twelve months.
A romantic husband asked staff at the Birmingham Central Travelodge to fill his bath with Prosecco to mark his wife's birthday.
This is relatively straightforward compared with a guest at Doncaster M18 Travelodge who asked staff to help deliver a baby…which they duly did. However, finding a train to take a guest to Hogwarts proved a little more difficult
Other bizarre requests from across the country include:
Where can we see wild Haggis? Fort William
Can you take the contents of my room to the beach? Blackpool South Shore
Will you be my Bridesmaid? Glasgow Central
Can I dock my yacht in your car park? London Tower Bridge
Please can you stop the wind from blowing? Aberdeen Central
Can you make sure that deers walk past my room at 8:30am? Bishop Strotford
Can you make a hat out of the bed runner for me to wear to the races? York Layerthorpe
Could you sing me to sleep with the Welsh National Anthem? Cardiff Central
Where is the zebra crossing on the M25? Thurrock M25
Can you pretend to be my chauffer for the day? I have an important meeting and want to impress my clients? Halifax
Which volcano does the lava in lavabread come from? Cardiff Central Queen Street
Can you catch me a horse for my daughter's Birthday Stoney Cross
Can you arrange for me to get married in St Paul's Cathedral?London Covent Garden
Can you get your team to stay up and put Swarovski crystals on my wedding dress? Hull Central
Could you answer my work phone and take messages for the day please? Sheffield Central
Can you build a helipad on top of roof as my boss is flying straight to the hotel? Edinburgh Central
Details: https://www.travelodge.co.uk/