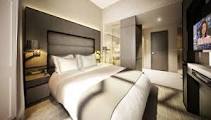 Eccleston Square Hotel in London is now offering guests free smart phones with unlimited calls to selected countries including the USA. The move enhances Eccleston Square Hotel's reputation for being one of the most technologically advanced boutique hotels in Europe.
The smart phone can be used in the bedroom or on the move around London. Guests can use them for browsing as well as unlimited business and personal calls to land lines and mobiles within the UK, USA and Europe.
The smart phone availability is just one aspect of the Eccleston Square Hotel technology-driven service.
The hotel bedrooms are equipped with 46 inch HD 3D Neo plasma Panasonic televisions with surround sound that can be connected to a smart phone. Touch pads control almost everything in the bedroom including the lighting, curtains, room temperature and even the 'Do Not Disturb' signal.
The bathrooms are equipped with rainfall showers, heated flooring and a flat screen television concealed in the bathroom mirror. SmartGlass shower walls can be adjusted from clear to opaque at the touch of a button depending on the level of privacy required.
Eccleston Square Hotel also offers a guest iPad which can be used to order meals (available 24hr), for housekeeping services, to have a 3D Blu-ray film delivered to the room or to request an in-room massage.
Eccleston Square Hotel has been formed from two Grade ll-listed Georgian townhouses. It borders Belgravia in the heart of central London and is around a five minute walk from Victoria Station.
Details: http://www.ecclestonsquarehotel.com/