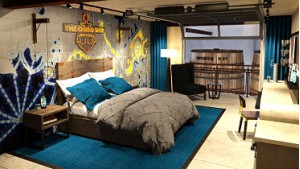 The good news for beer lovers is that BrewDog, the Scottish based brewery, is planning to open a hotel.
The bad news, at least for British residents, is that it will be in America.
Brewdog is still aiming to open a hotel near its Ellon brewery in Aberdeenshire. In the meantime Brewdog is planning the DogHouse Hotel alongside its planned 100,000-square-foot U.S. brewery in Columbus, Ohio.
The 50-bedroom DogHouse Hotel would include a sour beer brewing facility. The restaurant would focus on food and beer pairings and have beer-themed breakfasts, lunches and dinners.
Other features planned include craft beer mini-bars, IPA on tap in the bedrooms and in-room shower beer fridges.
The DogHouse Hotel will also feature a craft beer spa offering hop face masks, malted barley massages and 'Hoppy Feet' pedicures.
The DogHouse Hotel is planned to open autumn 2018.
Details: https://www.brewdog.com/lowdown/blog/announcing-doghouse-columbus