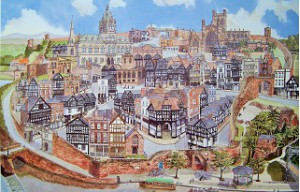 New research by Colliers International has revealed the UK's top ten hotspots for hotel investment and development.
This year's rankings has been topped by Chester, mainly as a result of the city's good occupancy levels allied to an upward revenue per available room.
The list is as follows:
1.Chester
2.York
3.Oxford
4.Bristol
5.Edinburgh
6.Cambridge
7.Liverpool
8.Manchester
9.Leeds
10.Birmingham
Colliers International's UK Hotels Market Index uses a series of key performance indicators to score each of 34 locations across the UK.
These include: land site prices; build costs; market appetite; valuation exit yields; room occupancy; average daily rate; room occupancy rates; four-year revenue per available room (revpar) trend; active pipeline as a percentage of current supply and construction costs.
London is still the largest market both in terms of the number of new developments in the pipeline and in terms of the revpar generated. However it dropped to 12th place mainly due to a 1.2% drop in revpar in addition to its high land costs.