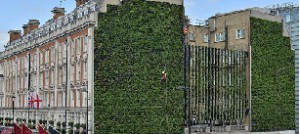 The Rubens at the Palace hotel in central London has just completed a major refurbishment.
The accommodation at The Rubens has undergone an extensive makeover with all 163 rooms, suites and serviced apartments fully refurbished.
Over 80 new marble bathrooms, along with 163 chandeliers have been installed. Modern communications, including USB sockets and upgraded televisions, have been installed in every room.
The public spaces at The Rubens at the Palace have also been upgraded. These include the Cavalry Bar, the Palace Lounge and Leopard Bar plus the hotel's flagship English Grill and Curry Room restaurants.
The Rubens at the Palace remains one of the 'greenest' hotels in London featuring its 350-metre-tall Living Wall which adorns the side of the hotel and which is home to over 10,000 herbaceous plants.
The Rubens at the Palace sits between Buckingham Palace and the new NOVA development in London's Victoria.