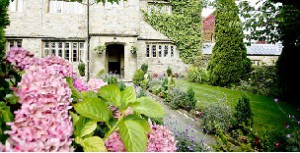 Stirk House is a historic hotel near Gisburn in Lancashire. It dates back to the 17th century and is currently undergoing a major refurbishment programme.
The original Stirk House was built in 1635 using stonework from the former Sawley Abbey, dismantled a century earlier during Henry VIII's dissolution of the monasteries. It became a hotel in 1933.
Stirk House has 33 bedrooms, a 70-cover restaurant which was totally refurbished at the beginning of this year, a bar, lounge and private dining rooms plus a conservatory - all situated in 22 acres of Lancashire countryside.
Stirk House has three separate conference rooms to accommodate meetings from 2 to 200 delegates. The leisure club at Stirk House includes a fully equipped gym, a heated pool and a full sized professional boxing ring.
The bedrooms at Stirk House are being upgraded and refurbished in a modern boutique style. A new lounge bar is currently being fitted. Future plans include additional bedrooms and additional leisure facilities.
Stirk House is located near Clitheroe in the heart of the Ribble Valley with good access to Preston, Blackburn, the M6 and M65 motorways.
Details: http://www.stirkhouse.co.uk/