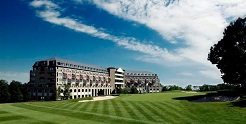 Celtic Manor Resort in Newport has launched a new apprenticeship programme to help train the next generation of hospitality professionals.
The new two-year apprenticeship scheme offers a comprehensive programme encompassing all the operational aspects of the hotel and hospitality industry.
The modules will cover food and beverage, conference and banqueting, front of house, housekeeping and kitchens as well as a stint combining all these areas at the resort's Coldra Court Hotel.
Apprentices will also be given access to a wide range of learning and development courses with subject matter including personal development, teamwork, guest relations, presentation and interview skills.
Celtic Manor Resort is one of the UK's leading conference resort with almost 600 bedrooms spread across four hotels in South Wales.
Details: http://www.celtic-manor.com/