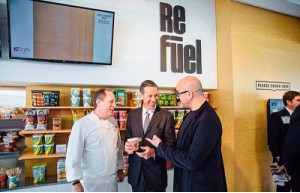 Marriott International has launched its first 'pop-up hotel innovation lab'. It is sited in a hotel in Los Angeles and it is designed to elicit feedback from the public.
The object of the hotel innovation lab is to let hotel guests and the general public see, touch, taste and hear some of the enhancements being considered for the future of Marriott's Aloft and Element hotel brands.
Among innovations under consideration include:
•With business and leisure travellers looking for more unique spaces, Element is piloting a new guest room design with a communal room in the centre of four guest rooms. Thus the guests can share a kitchen, dining room and lounge area – allowing small groups to spend time together in a more private setting.
•Aloft will be revitalizing its food and beverage programme with an emphasis on fresh, healthy ingredients. Guests will be able to order customized "pots," a healthy meal in a 'to-go container' with food that reflects regional tastes. A personalized pot can be ordered and paid for at a digital kiosk.
• Introducing a 'tech-centric' beverage concept, such as a portable wine cart that automatically pours a glass of wine when activated by the guest's hotel room key card.
Every person who passes through the lab can offer their feedback through a swipe-able survey. The feedback will be reflected in the Aloft and Element brands as Marriott roll out this guest experience beginning autumn 2017.
Marriott was operating 116 Aloft and 23 Element hotels open around the world at the end of 2016. The group has a further 150 Aloft and 73 Element hotels in the pipeline globally.