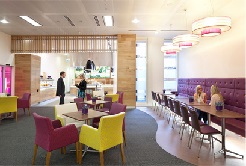 Out go the bold primary colours and in come the muted autumnal shades. Despite that there is no mistaking an etc.venue. Etc.venues Monument opened this week in the City of London.
Etc.venues Monument is located at 8 Eastcheap, adjacent to the "walkie-talkie" building in the City of London. It is a two minute walk from Monument tube station, close to Bank tube and DLR interchange and a short walk from London Bridge station.
Etc.venues Monument incorporates 14,000 sq-ft of contemporary meeting and training space on the second and third floors of a converted office building.
The Capital Suite, the largest room, is located on the second floor and will seat up to 240 delegates theatre style - overlooking Eastcheap with plenty of natural daylight. The room subdivides into three independent sound-proofed sections. The second floor also features a theatre kitchen during the day, which becomes the bar in the evening, plus the communal coffee lounge, relaxation space and the dining area. The third floor includes six meeting rooms seating between 24 and 60 delegates cabaret style and two small boardrooms.
Etc.venues Monument is air-conditioned throughout, with loads of natural daylight, a good catering operation and offers free high-speed wi-fi – in short an excellent working environment.
Etc.venues is set to extend its presence in London. Etc.venues Marble Arch is scheduled to open in January 2015 in Edgware Road with 16000sq-ft of space over two floors with the largest room accommodating 120 theatre style plus an additional 13 rooms of various sizes.
Details: www.etcvenues.co.uk