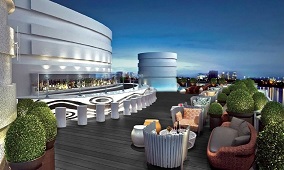 The Watergate Hotel has reopened in Washington DC. The Watergate is a byword for political scandal and it led to the impeachment and downfall of President Nixon. The hotel has subsequently been responsible for the launch of a thousand '-gate' suffixes including 'plebgate and 'hackgate'.
Now the Watergate Hotel is back following an $88million, two-year-long total overhaul. The Watergate Hotel sits on the banks of Potomac River in Washington. It has 336
retro-styled bedrooms and a roof top lounge with views of the Washington Memorial.
The Watergate Hotel also features a 12,500 sq-ft luxury spa and the newly constructed Moretti Grand Ballroom with 27,000 square feet of meeting and event space.
Service at the Watergate Hotel is reported as unimpeachable.
Details: http://www.thewatergatehotel.com/