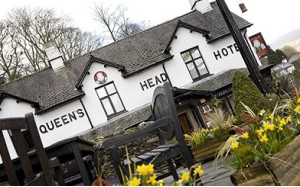 The Queens Head hotel in Troutbeck, in the Lake District, is set to reopen in April 2017.
The Queens Head has now been closed for almost three years to undergo a £2million full refurbishment following a major fire at the 17th century coaching house.
The new-look Queens Head will feature a large drinking area with dining areas and ten newly-refurbished en-suite guest bedrooms.
The Queens Head is a member of the Robinsons Brewery group. It is located four miles from Ambleside and Windermere in Cumbria and nestles on the side of the fells overlooking the Troutbeck Valley.
Details: https://www.robinsonsbrewery.com/