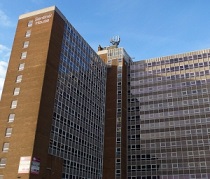 Plans to convert Sentinel House in Eccles, Salford into a 126 bedroom hotel are set for approval by planning officers at Salford City Council.
Omega Travel have brought the 15-storey, 1970's office building with plans to convert half the building into a hotel catering for Chinese tourists on sightseeing tours of the UK. Salford is viewed as an ideal location close to Manchester Airport, midway between London and Scotland and with Manchester attractions on the doorstep.
Plans for the building also include a 180sq-mt entrance foyer, a 218-cover restaurant and bar on the second floor plus a coach lay-by/drop-off area. The rest of the building would remain as office space.
Sentinel House is located in Peel Street in Eccles.