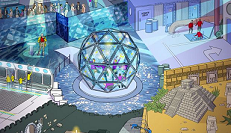 Cast your mind back to the 1990's - do you remember the Crystal Maze television game show? Well it's coming back - not on television but as a team challenge which will be based in London.
It opens in March 2016 but the exact location is still a well-kept secret. It is a 30,000ft site somewhere in north London.
The new Crystal Maze works in exactly the same manner as the television programme. A team of eight take on tests of mind, body and skills set in the four adventure time zones: Aztec, Medieval, Industrial and Futuristic, not forgetting The Crystal Dome.
The team will be put through their paces by guides and will compete against three other teams in a variety of trials that test personal effectiveness and skills as a team. A crystal is earned for each test completed. Each crystal earns the team more time in the final challenge: The Crystal Dome.
Crystal Maze is basically a fun activity but it does promote teamwork, leadership and problem solving. The Crystal Maze will be open to businesses, educational groups, teams, clubs and community groups.
More details: www.the-crystal-maze.com