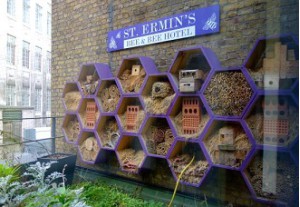 Throughout September, St Ermin's Hotel in Westminster is celebrating its annual 'honey month', to coincide with the harvest of honey collected from its resident 350,000 Buckfast bees.
The bees work hard earning their keep at the St Ermins Bee and Bee Hotel.
The bees provide the main ingredient in the hotel's seasonal Honey Afternoon Tea and Buzzy Bees Kid's Tea. The hotel's Caxton Bar and Terrace also feature a selection of special honey cocktails.
In support of urban beekeeping and to encourage sustainability in the city, St. Ermin's is offering urban beekeeping taster workshops - on the 17th September and 1st October.
The course is a way for participants to get interactive experience handling bees, managing their hives and collecting raw honey. The 2.5-hour workshops also give guidance on what flowers to plant, when and where and how best to site hives in gardens or allotments.
The St. Ermin's Buckfast bees produce approximately 25lb of honey each year collecting pollen from local gardens including Buckingham Palace and St James' Park.
Visitors can watch the bee colony in action (behind a glass viewing platform) on the hotel's third floor Bee Terrace.
More details: http://www.sterminshotel.co.uk/offers/beekeeping-workshops/
St. Ermin's Hotel is part of the Autograph Collection, Marriott International's portfolio of upscale, independent hotels