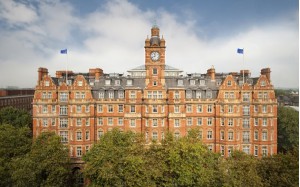 The Landmark London hotel is undergoing an extensive two-year long renovation. All the Landmark's 291 bedrooms plus the Spa and Health Club will be revamped.
The new bedroom design at Landmark London will feature a neutral colour palette.
All bedrooms will include high-speed wi-fi, a flat screen TV and luxurious bathroom amenities.
Landmark London will remain open throughout with bedrooms refurbished on a rolling basis.
In early 2017 the Landmark London's three spa treatment rooms, the 15-metre indoor swimming pool and the gym will also be refreshed.
The main events spaces including the Ballroom and Grand Ballroom were restored last August with new carpets, paintwork and marble restoration.
Landmark London Hotel is a Victorian-built railway hotel in Marylebone Road, a two minute walk from Marylebone rail and tube station.
Details: http://www.landmarklondon.co.uk/en