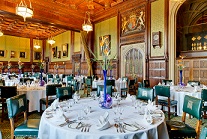 Members of the public and companies will shortly have the opportunity to dine in the Members' Dining Room in the House of Commons. The House of Commons is inviting bookings for a 3-course menu and coffee experience on six specific days: 31 March, 1 April, 8 April, 9 April, 28 April and 29 April 2015.
The regular diners will have taken themselves away from the House of Commons to focus on campaigning for the forthcoming General Election.
Diners will get a rare opportunity to experience the impressive surroundings, adorned with wooden sculptures, beautiful flock wallpaper and historic paintings. Previously intended as a conference room called the 'Painted Chamber', the Members' Dining Room is an impressive dining space with an ornate Royal Coat of Arms sitting proudly above the entrance.
The House of Commons is the latest venue to join the Westminster Collection of prestigious and unique venues in Westminster. It offers a historical backdrop for corporate and charity events and the venue is available for hire during periods when the House is not sitting and on Saturdays.
Tours can be arranged as part of an event. These include Westminster Hall, St Stephen's Lobby, Central Lobby and both the Commons and the Lords Chamber. They provide insight into the history of the building and the workings of the UK Parliament.
There are ten venues available to hire. They range from dining rooms with an historic Pugin design to the Terrace Pavilion, a purpose-built marquee with panoramic glass doors and views of the River Thames. The venues can accommodate between 10 and 200 guests.

Details: www.venues-london.co.uk