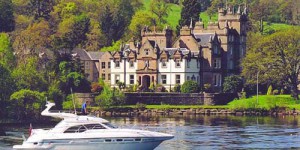 Cameron House, on the banks of Loch Lomond in Scotland, has launched a concierge apprenticeship scheme.
For the first time in Scotland, a three year programme will offer a young person training in the day-to-day management of a five-star concierge department.
The successful applicant will join an existing team of 12 and will be mentored by award-winning concierge Alan Grimes, who has 30 years experience under his belt and has held the role of head concierge at Cameron House for the past eight years.
The new apprentice will educated in the day-to-day supervision of the hotel's concierge department including organising specialised itineraries and making travel arrangements to fulfill guest requests.
They will also have access to a range of operational areas throughout the hotel.
The Concierge Apprenticeship is open to all 18 to 24 year olds with a serious interest in pursuing hospitality as a career.
Details: http://www.cameronhouse.co.uk/careers/apprentice-concierge-scheme.html