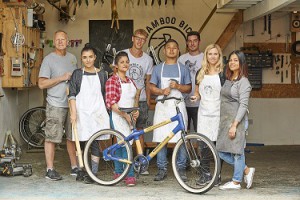 Hilton London Bankside, in conjunction with the Bamboo Bicycle Club, has just launched a fleet of six bamboo bikes for guest use.
The bikes are robust, easy to ride and claim to be more environmentally friendly. They have been built from scratch by hotel staff – under the expert guidance and tuition of the team at Bamboo Bicycle Club.
Each bike is named after the team member that built it.
The bamboo bikes are securely stationed outside Hilton London Bankside and available for hotel guests to use at any time during their stay, free of charge.
Hilton London Bankside is also creating its own bicycle trail map of the local area.
Details: http://www3.hilton.com/en/hotels/united-kingdom/hilton-london-bankside-LONSBHI/index.html