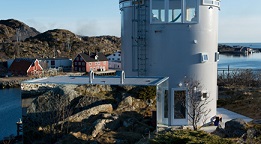 A quirky new hotel has opened on the island of Skrova in Norway. It is a converted oil tank and it's perched high on a hill overlooking the islet-studded Lofoten archipelago.
Internally, the three storey oil tank is decorated in a contemporary style and includes all latest amenities, including wireless internet. There are two separate bedrooms, plus a sofa bed in the living room. In total it can sleep up to seven people.
On the first floor is the kitchen / diner plus one bedroom. An en-suite bedroom is on the second floor. The living room boasting a 360 degree view of the area is on the third floor with steps to the roof through a hatch. Guests can sit in a hammock and watch the midnight sun or the northern lights.
The town of Skrova offers rafting, whale watching, sea eagle watching and fishing. Local restaurants are a 'stroll' away and apparently the best salmon and whale sashimi this side of Japan is found on the islands.

Details: www.oljetanken.no