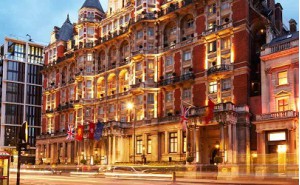 Mandarin Oriental Hyde Park, London is to be the star of a new three part Channel 4 series.
Three 60-minute long episodes entitled 'A Very British Hotel' will provide an insight into the running of the Mandarin Oriental Hotel during its busy summer season when the hotel receives an influx of high-paying international guests as well as hosting events and weddings.
The documentary will follow the exploits of Hollywood A-listers. It will follow a Chinese wedding and observe the staff catering for overseas Royalty and hosting celebrity events.
Film crews will also follow chef Heston Blumenthal and his team at two-time Michelin-starred restaurant, Dinner by Heston Blumenthal, as they launch a new dish.
'A Very British Hotel' starts its run on 2 March 2017.