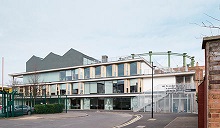 The Foundry has been named the RIBA London Building of the Year 2015. The Foundry is new meeting space recently opened in Vauxhall in London. It is the conversion of a large Edwardian industrial unit built in 1902 which has been home to various manufacturing and distribution companies over the years. In 2013 The Foundry began a total refurbishment and a new modern extension was added.
The Foundry has seven meeting rooms of different sizes that can be adapted to meet specific needs. The main Conference Hall can host events for up to 90 delegates theatre style. It is located on the ground floor adjacent to the atrium.
The centre's additional six meeting rooms will seat between 10 and 80 delegates including top floor meeting space which will combine to accommodate up to 120 delegates theatre style. The Foundry can be booked for conferences, AGMs, informal meetings, training and interviews.
The Foundry has been established by the Social Justice and Human Rights Centre Company Limited and is home to a number of leading Trusts and Foundations. However, all non-office space can be booked by both voluntary and private sector organisations.
The Foundry is located in Oval Way between Oval and Vauxhall tube stations in south London.
Details: www.aplaceforchange.co.uk