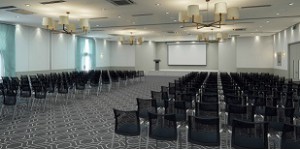 De Vere Venues Staverton Park in Daventry, Northamptonshire has just opened its newly refurbished County Suite and lobby area.
The County Suite, with its own dedicated entrance, now accommodates over 300 delegates. The suite has a new AV system, lighting panels and furnishings.
The County Suite has also been adapted for vehicular access enabling the suite to be used for car launches and similar events.
De Vere Venues Staverton Park has 245 bedrooms. The hotel has 61 flexible event spaces in total, all with natural light, state-of-the-art audio-visual equipment and free wi-fi.
Leisure facilities include a gym, swimming pool, beauty suite and an 18-hole golf course.
Staverton Park is set in 150 acres of countryside in the centre of England, accessible from the M1, M6, M40 motorways and Birmingham International Airport.
Details: http://www.deverevenues.co.uk/en/venues/staverton-park/