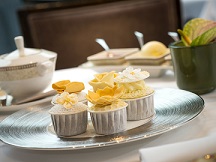 Happy 50th Birthday to the Royal Garden Hotel in Kensington, London. From hosting England's World Cup winners back in 1966 and being part of the Beatles frenzy in 1968, to Justin Bieber hysteria in 2012, the Royal Garden Hotel has witnessed half a century of Kensington's thrills and spills. 1st August 2015 marked the start of their year-long anniversary celebrations.
The hotel is commemorating its 50 years with, amongst other things, a limited edition cupcake. Created by the award-winning executive head chef Steve Munkley and executive pastry chef Nicholas Hollands, the confectionary masterpiece brings to life the hotel's golden moments from the last half a century – from its sporting and music heritage to the celebratory book and branded taxi especially commissioned to mark this milestone.
The limited edition cupcake will be available with the hotel's Park Terrace restaurant afternoon tea menu.
Jonathan Lowrey, general manager at the Royal Garden Hotel says: "We pride ourselves on offering friendly and intuitive five star service, and so to reach this milestone is a real achievement for the hotel and its staff. This, along with our stylish and luxurious rooms, restaurants, and of course great Kensington location, has all contributed to our success over the past 50 years."

Details: www.royalgardenhotel.co.uk