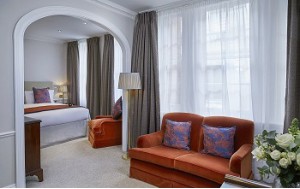 Dukes London has just completed a major multi-million-pound refurbishment.
Dukes London is a luxury five-star hotel located just off Piccadilly, in the heart of Mayfair.
The hotel has 90 bedrooms all of which have been renovated. 22 rooms form a new category of 'deluxe room'.
The newly-refurbished deluxe rooms are individually and sumptuously designed, although all the bedrooms are luxuriously finished, furnished and equipped.
Other changes at Dukes London include a new-look lobby, the new St James' Suite for events and Great British Restaurant, the hotel's all-day dining experience, headed up by Executive Chef Nigel Mendham.
The St James Suite is one of four meeting and events rooms at Dukes London. It is fully air-conditioned with wireless broadband Internet connection. It will seat up to 30 delegates for a boardroom meeting.
Dukes London nestles in a quiet courtyard in St. James's Place in Mayfair.
Details: https://www.dukeshotel.com/