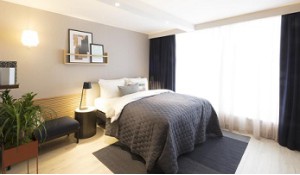 Staybridge Suites unveiled new designs for its future openings at the Business Travel Show held in London last week.
The new designs advance the Staybridge Suites' brand hallmarks including The Pantry, the Evening Socials plus the 24-hour fitness and laundry facilities.
New communal spaces will offer more places to work, meet and relax.
A new style communal kitchen is designed to breaks down the barrier between hotel guests and staff, giving it a more 'home-like' feel.
Room designs are kept neutral which will allowing guests to 'personalise' their space and make it their own – so they feel 'at home' when they stay at Staybridge Suites.
Mike Greenup, Vice President, Brand Management, Staybridge Suites commented: "Staybridge Suites consistently scores highly in guest reviews but that doesn't mean we want to rest on our laurels. As business travel needs change, so do our hotels. The new Staybridge Suites design was developed around guest insights, hotel feedback and key trends in hospitality, bringing an even more home-like feel to the brand. We can't wait for guests to experience the new design at our openings later this year."
Staybridge Suites is set to double the number of properties it operates in Europe over the next two years.
The next opening in the UK will be the 116 room Staybridge Suites Manchester - Oxford Road, due to open spring 2018. This will be followed by Staybridge Suites Dundee and Staybridge Suites London – Heathrow Bath Road.
Details:https://www.ihgplc.com/news-and-media/news-releases/2018/staybridge-suites-unveils-new-design-at-business-travel-show