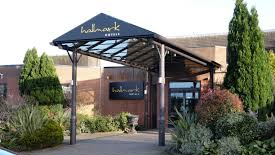 Hallmark Hotel Preston Leyland is currently undergoing a £500,000 extensive refurbishment of its bedrooms. 31 new-look bedrooms are scheduled to come on stream from 9thMarch 2018.
Each of the newly refurbished rooms will include:
49" Samsung flat screen TV with HDMI Input.
Silent Night Carlton superior luxury mattress.
Digital safe in bedrooms.
1 x 330ml still water, 1 x 330ml sparkling water.
4 x luxury cushioned pillows.
Executive hospitality tea tray.
Bathe range toiletry products.
Hallmark Hotel Preston Leyland has 93 bedrooms in total plus a flexible range of 13 conference and meeting rooms with the largest – the Venetian – seating up to 200 delegates.
Hallmark Hotel Preston Leyland has a brasserie restaurant and bar. Leisure facilities include a swimming pool, sauna and Jacuzzi.
Hallmark Hotel Preston Leyland is located just off the M6 motorway at junction 28. It is around 30 minutes from central Manchester and is well located for the Lake District and the Fylde coast.
Details: https://www.hallmarkhotels.co.uk/