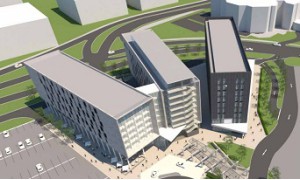 The boom in new hotels in both Manchester and Liverpool is set to continue with more than 3,200 new hotel rooms becoming available in the cities over the next two years.
This is according to the latest UK Hotels Market Index by Colliers International.
A total of 2,073 will be added to the 17,894 already available in Manchester.
An additional 1,170 bedrooms will join Liverpool's current total of 8,205.
Various reasons have been advanced for the marked increase including the weakness of the pound, the strengthening of global and Eurozone economies and the increasing frequency of direct flights between Asia and Manchester.
Both Manchester and Liverpool continue to benefit from their ongoing renaissance with both cities offering diverse culture, an increasing services sector, a wide range of tourist attractions – not to mention 'top-draw' football teams.