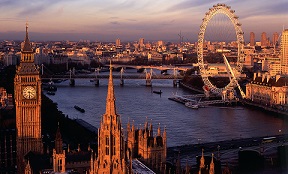 A report from industry analysts, STR, shows that London's hotel industry posted its highest revenue per available room (RevPAR) during the first three months of 2017 - the highest for any first quarter on record.
The average RevPAR level of £101.50 for the quarter showed an 11.3% increase compared with Q1 2016.
Occupancy was up 4.8% at 76.1% - the highest level since 2010.
The average daily room rate also reached a record level at £133.38.
Performance increases were seen across all London submarkets, with the highest levels in London's West End, Earls Court, Kensington, Chelsea and South Central London.
Several factors may have influenced the growth including the devaluation of sterling as well as a late Easter this year.
London is now the development hotspot of Europe, with more than 13,000 bedrooms in the pipeline.
Details: http://www.hotelnewsnow.com/Articles/137143/STR-Record-breaking-Q1-for-London-hotels