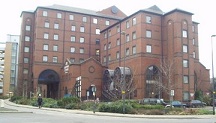 Crowne Plaza Leeds hotel is about to embark on a major £4million refurbishment programme. The four month programme will see the installation of a new restaurant, bar and lounge on the ground floor.
The reception will be redesigned with a revamp also planned for the hotel's grand staircase.
All Crowne Plaza's 135 bedrooms will be refurbished. New Clubrooms and suites are planned, plus a new Club Lounge.
The meeting and events facilities at Crowne Plaza Leeds including breakout rooms are also lined up for a revamp.
Refurbishment work started on 30th January 2017 and will continue in phases until the end of May 2017. Crowne Plaza Leeds will remain open throughout.
Crowne Plaza Leeds is situated in Wellington Street in the centreof Leeds and is a short walk from Leeds Central Station.