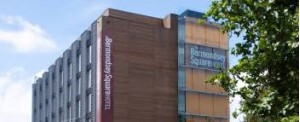 Bermondsey Square Hotel is London is introducing a new concept called Bermondsey SquAIR.
On the basis that if 'you can't beat them - join them' Bermondsey Square Hotel is using the SquAIR umbrella to offer its services to Airbnb style rental apartment owners within a one mile radius of the hotel.
The services which will be provided by Bermondsey SquAIR include housekeeping, key management, maintenance and point of contact.
The concept will be launched on November 12th and will enable apartment owners in the area to provide rental accommodation to a hotel standard.
Bermondsey SquAIR will handle minor maintenance queries at the apartments as well as arranging contractors for larger maintenance issues.
Bermondsey SquAIR will also offer support to apartment owners regarding linen hire, room servicing, deep cleaning as well as providing an assurance that their property is being well maintained.
Bermondsey SquAIR will offer airbnb guests a 24 hour support service with a hotel manager on site within 30 minutes of a problem arising.
Bermondsey Square Hotel is located in Tower Bridge Road, Southwark, a five minute walk from London Bridge station.