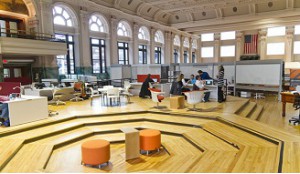 The recently published Savills' European Hotels Megatrends identifies the trends that they believe will drive the hotel and hospitality industry in the future. Based on their research they make a series of predictions.
By the year 2030 the report suggests that hotels will remain the favoured choice of travellers. However, the share of 'alternative' accommodation such as serviced apartments, aparthotels and branded hostels will have increased.
Urban hotels they predict will include more social areas as bedroom sizes become smaller. These, they suggest, are likely to be centred around food and beverage concepts managed by specialist operators.
Savills also believe that co-working operators will increasingly lease/manage space within urban hotels helping them to generate a 'buzz' and support on-site F&B operations.
We may even see some co-working operators launching their own hotel concepts.
As far as the business traveller is concerned Savills think their needs will have changed very little by 2030.
They predict that facial recognition technology will have moved out of airport terminals and on to the high street and this, for example, could help speed up the checking-in process.
Savills also think that hotels competing with the Airb&b model will aim to become a home away from home for the business traveller with a comfortable lounge and bar area creating an informal environment in which to work or relax.
Full report: http://www.savills.co.uk/research/europe.aspx