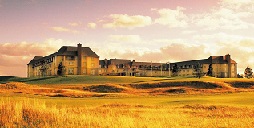 The five-star, 209-bedroom Fairmont St Andrews hotel in Scotland starts its £10million refurbishment programme in January 2016.
The programme will take 18 months to complete and will revamp all the hotel interiors, including the bathrooms and all the public areas.
The work will be carried out in phases enabling the hotel to remain open and functioning throughout. The Kittocks Den Bar, lobby and atrium will be the first spaces to be remodelled.
Fairmont St Andrews opened in 2001 and is located at the centre of a 520-acre estate with views over the Tay Estuary and the St Andrews skyline. It features two championship golf courses.
Details: www.fairmont.com