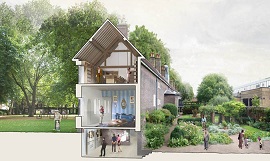 The Geffrye Museum in London will close early in the New Year ahead of a major two-year-long redevelopment.
The Geffrye Museum is set in Grade I-listed 18th century almshouses with gardens in London's Hoxton district. The museum explores the homes and home life from 1600 to the present day through a series of evocative period London living rooms and gardens.
Currently, in addition to the galleries, the Geffrye Museum has meeting and events spaces for up to 250 guests and is a popular venue for receptions, cocktail parties, press launches, talks and meetings.
Redevelopment plans entitled 'Unlocking the Geffrye' will creating 50 per cent more museum space with the addition of two floors. The development will increase the venue's events spaces as well as creating a new café.
The Geffrye Museum will also have a new entrance opposite Hoxton Station.
The Geffrye Museum closes on 7thJanuary 2018.
Details: https://www.geffrye-museum.org.uk/