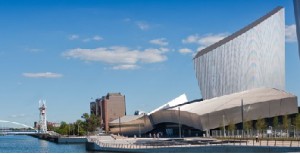 Looking out over Salford Quays from the new WaterShard meeting rooms at the Imperial War Museum North it is hard not to be impressed with developments over the last few years of the MediaCity complex and the greater Salford Quays area.
It is now not just a major media centre but also a vibrant business and education centre and a rapidly growing residential area. It has become a 'city within a city'.
Last week saw the official opening of the WaterShard conference and meeting suite on the second floor of the Imperial War Museum North at Salford Quays. The space was previously the IWM café but this has now been re-sited on the ground floor.
The WaterShard comprises a suite of three self-contained rooms.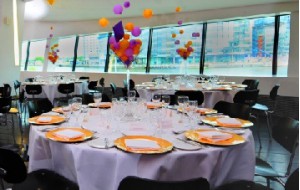 Suites 1 and 2 in the WaterShard will also combine to form a room accommodating up to 120 delegates theatre style or 90 cabaret style - and it is fitted with fully acoustic partitioning.
Room 3 will seat up to 40 delegates theatre style.
All three rooms are wonderfully open and bright with high ceilings and views across the Quays to the various media centres on the opposite bank.
The WaterShard is fully equipped with the latest meeting technology. The windows also have full black-out facilities.
The WaterShard will complement the existing and extensive banqueting and exhibition facilities on the ground floor of IWM North.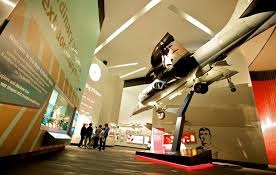 Imperial War Museum North has always boasted it unique banqueting capabilities including the possibility of holding a drinks receptions under a Harrier Jump Jet in the main exhibition hall as well as hosting a dinner for up to 300 guests. The A-V facilities include a 360 degree digital projection system now upgraded with HD projectors.
Imperial War Museum North is located on Trafford Wharf Road and has plenty of complimentary parking. It is a two-minute walk to Media City tram stop on Manchester's Metrolink. From there it is a ten minute journey into central Manchester and Manchester's mainline rail terminals.
If you are planning a meeting then why not suggest your delegates bring their swimming gear – 'budgie-smugglers' if they are brave or a full wet-suit if not. You can then end a productive meeting with a water sports session – swimming, kayaking or canoeing in the Quays. Judging from all the activity in the water last week you will not be alone.
Details: http://www.iwm.org.uk/commercial/venue-hire/iwm-north