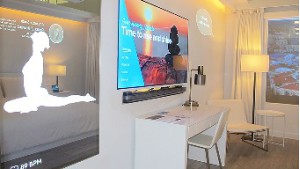 Marriott Hotels has teamed up with Samsung and Legrand to design a hotel room of the future.
The so-called 'Internet of Things (IoT) Hotel Room' will allow guests to personalise their room and their stay with innovations ranging from intuitive lighting to voice-activated room controls.
The technology inside the IoT Hotel Room allows, for instance, a user to ask a virtual assistant for a 6:30am wake-up alarm, to start a yoga routine on a full-length mirror, request additional housekeeping services and start the shower at the desired temperature - all stored in their customer profile and all activated by voice or app.
Marriott is looking to embrace a future where 'hotel owners would have a seamless, transparent and flexible end-to-end solution that requires minimal equipment, while customers would enjoy an integrated experience with access to their own data and information, as well as accessible voice and mobile-optimized controls'.
The three partners will analyze feedback following a three-month-long IoT Hotel Room trial.
Guests can expect to see elements of this brave new world introduced in hotel rooms within the next five years.
Details: http://news.marriott.com/2017/11/marriott-international-teams-samsung-legrand-unveil-hospitality-industrys-iot-hotel-room-future-enabling-company-deepen-personalized-guest-experience/