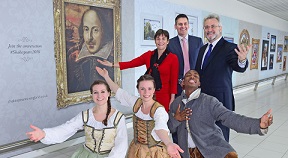 Birmingham International Airport is providing a major boost to the region's top tourist attractions in a new marketing campaign.
Birmingham International Airport is joining in a region-wide campaign to commemorate the 400th year of William Shakespeare's death in 1616.
New artwork is being introduced in the arrivals area to greet the millions of visitors arriving into the region through Birmingham International Airport or 'Shakespeare's Airport' as it likes to market itself particularly in China and the US where so many people study Shakespeare's work.
Shakespeare's England, the official tourism guide for Stratford-upon-Avon, Warwick, Kenilworth and Royal Leamington Spa is spearheading the campaign with a number of exhibitions and events in the region to celebrate the anniversary.
Geoff Spooner, chairman of Shakespeare's England and general manager of Warwick Castle, said: "With over 10 million passengers passing through Birmingham Airport every year, this is a fantastic opportunity for Shakespeare's England to showcase some of the world class visitor attractions that its members provide and which are enjoyed by millions of visitors every year.
"This presence will generate increased awareness of Shakespeare's England and with it, help to promote the equally impressive range of restaurants, theatre, overnight accommodation and many other attractions in this outstanding region."
Details: www.shakespeares-england.co.uk