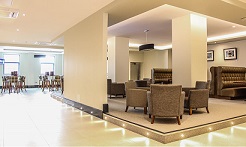 I know this part of Salford quite well and I knew where the Ainscow Hotel was. I knew it was an old building which had changed use and been totally renovated but I couldn't picture it – until I saw it and then the penny dropped. It is situated slightly set-back off the road on a patch of land with the main A6 on one side, the rail line into Manchester Victoria station on the other and the road to Spinningfields (trendy Manchester) just in front, with its own secure car park at the back – a perfect location with both central Manchester and Salford within easy walking distance.

The building itself is interesting. It started life as a brewery before becoming a jam factory in the early 20th century then a warehouse for auto parts, followed by a few years in dereliction before a spell in intensive care converted it into the Ainscow Hotel. It opened in August 2014.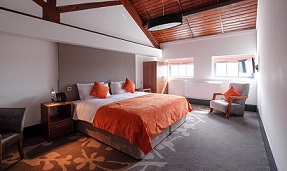 The building has style and the architectural features have been retained and enhanced so the bedrooms have high ceilings and loads of natural daylight. If you like cityscapes from your bedroom window then this will suit down to the ground. Bedrooms are simple and stylish with furniture manufactured locally in Salford. Some have spiral staircases that open on to a mezzanine area but all are contemporary, individual, stylish and comfortable. Three duplex suites on the fourth floor are still being created but by Christmas all 74 bedrooms will be available - and all with free super-fast wi-fi.
The Ainscow Hotel main bar is on the ground floor and the restaurant on the third floor which also features an outdoor terrace.
Sadly there are no meeting rooms or event spaces. There is a basement which the hotel owners were considering converting to event space but they considered the lack of windows to be a major problem – it is. Instead the basement will become a gym and small city-spa in the next phase of development. But that is all in the future.
There is no shortage of good hotels in Manchester across the price spectrum. Admittedly there is not that many in this part of Salford. Nonetheless we wish them well – it is a very good hotel which still has the lovely smell of new carpets and fresh paint.
Details: www.theainscow.com