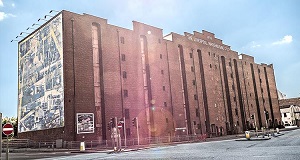 If when you approach the building you think to yourself this cannot possibly be a hotel and exhibition centre - you are probably in the right place. Walk up the steps to the loading bay and just above a small door is the sign: Victoria Warehouse Hotel. You have arrived and you are about to witness one of Manchester's most unusual hotels. Victoria Warehouse is a cavernous, old industrial warehouse straddling the Manchester Ship Canal and the rail line running through Salford Quays. It comprises two buildings separated by what could politely be called a courtyard.

Internally the main warehouse has been stripped back to bare brickwork with concrete and cast iron pillars and concrete floors. Industrial chic on this scale does not spare the blushes. Everything is on view including all the heating pipework and ducting and the lighting cables. The ground floor includes a reception area, a lounge, a library, a curtained-off theatre to seat 20 people plus a bistro restaurant and bar. Beautiful but disturbing human- sized models constructed from old iron and metal scraps by a local homeless Salford-based sculptor decorate the ground floor and the former loading bay.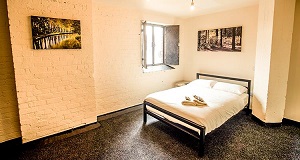 There are just 35 bedrooms at Victoria Warehouse Hotel all on one level. If the floors above were converted to bedrooms there would be around 700 in total which gives an indication of the size of the warehouse. The bedrooms are basic, simple and spotless. Soft furnishings have been totally banished apart from sheets and blankets on the bed. Old metal window shutters replace curtains. Furniture consists of the rack for clothes and an old school desk and chair as workspace. The en-suite bathrooms have also been pared back to the bare essentials but they do include a power-shower. Some rooms have views across a canal to its famous neighbour – Old Trafford Football Stadium.

Across the courtyard – which incidentally is available for private hire for outdoor events or barbeques - is the main exhibition space. The ground floor space will accommodate up to 4500 people standing, 800 delegates for a cabaret style meeting or 600 delegates with staging. A glass-fronted mezzanine has been added along one side. The room has full vehicle access and is sufficiently well kitted-out AV-wise to accommodate most exhibitions, trade shows and product launches.

Full capacity details are listed on the website.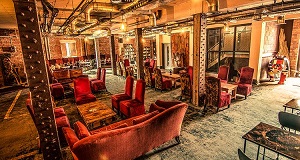 Victoria Warehouse Hotel is the total antidote to modern, luxurious four and five star hotels which dominate every city in the UK. The owners of Victoria Warehouse believe in growing the venue organically, seeing what works and developing new ideas and new directions for the building as they go along. I liked it. I liked its quirkiness, its history, its basic decor – everything about it appealed to me.

Look out of the bedroom window and you might just catch sight of the new so-called Football Hotel currently under construction opposite Old Trafford Stadium.

Delegates and guests are spoiled for choice hotel-wise in Salford Quays but in terms of value for money I suspect Victoria Warehouse Hotel will be a 'no-brainer'. I urge you to go and take a look. Hop on the Manchester tram bound for either Eccles or Media CityUK get off at Exchange Quay. Victoria Warehouse Hotel is barely a five minute walk away.

Details: www.victoriawarehouse.com/hotel