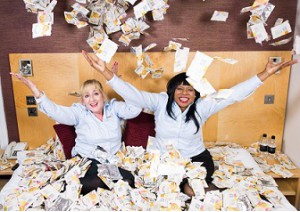 House-keeping ladies from Strand Palace Hotel in London have raised over £6,000 for charities this year, including donations to Guide Dogs for the Blind, City Farm and Great Ormond Street Hospital, by collecting throwaway items.
Among their money-raising efforts, the house-keeping staff have collected used bars of soap, biscuit wrappers and coins left behind in guestrooms, as well as taking part in Race for Life for Cancer Research.
Used bars of soap left behind after a guest has checked out of the 800-bedroom Strand Palace Hotel have been stored and then delivered to Clean Conscience. To date, more than 6,000 bars have been donated, which are then reformed and shipped out to a number of countries in need of hygiene help.
Biscuit wrappers, 19,487 of them, were retrieved from in-room bins, cleaned of crumbs and saved to exchange for money in the McVitie's Biscuit Wrapper Recycling Programme.
Foreign coins have been collected and stored in coffee jars, then taken on a regular basis to the Forex world money exchange. So far, 22 different currencies have been collected and exchanged including Peruvian sol, Czech koruna and Mexican peso. To date, these discarded coins have raised £47.12 after exchange.
Strand Palace Hotel House-keepers, Carment Browne and Angela Chaabane, have no intention of stopping now. "We really enjoy it, especially the feeling that we are making a difference to people with less than we have," said Carment. Meanwhile Angela commented: "It's just stuff that normally gets thrown away that we can collect and raise money from. It's a little bit of extra work but we actually enjoy doing it."
Strand Palace Hotel General Manager, David MacRae, is proud of his house-keepers' determination. "I was very impressed when they came up with these initiatives and the ideas just keep coming. They recently took part in Race for Life for Cancer Research and there are plans for a London "dash" around the Monopoly board very soon which will involve all of the hotel's staff.
Details: https://www.strandpalacehotel.co.uk/